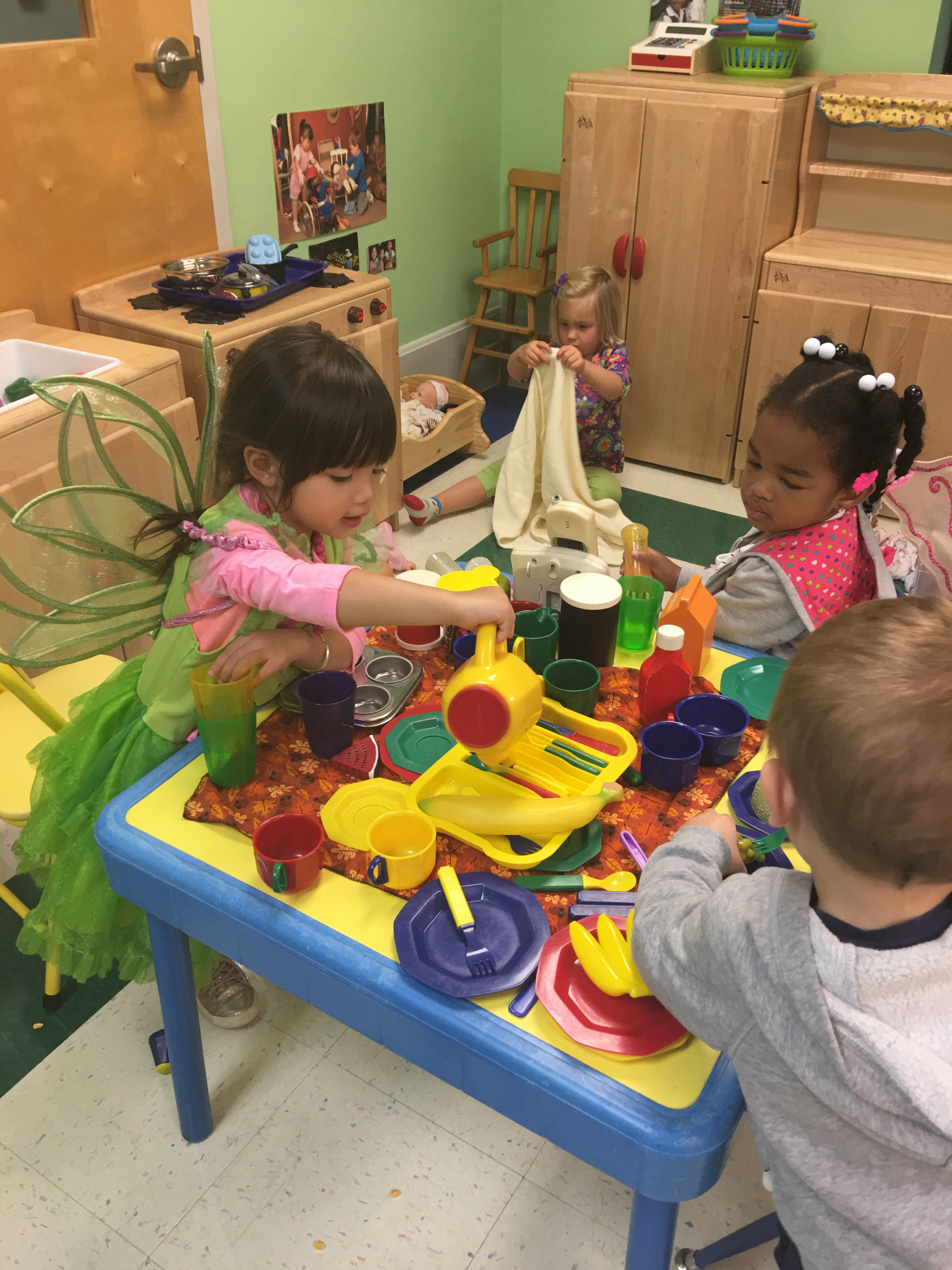 Our School
The Williamsburg Parent Cooperative Preschool was founded in 1969 by community and college parents who were intrigued by the possibility of being involved with their children's education. It is a non-profit, non-denominational, non-discriminatory school run by a Parent Board. After brief stays elsewhere, the Co-op found a home at St. Martin's Episcopal Church, where it is regarded as part of the church's outreach program. The school's tradition of fostering healthy families and its long-term scholarship program meshed well with the church's commitment to weekday use of its facilities, and the relationship has continued for nearly 40 years.
Our hallmarks are the unique enrichment of parent involvement, and the liveliness and diversity of our experiential learning environment. Our belief in children's joy in discovery, and the particular charm added when teachers, children, and parents come together in the classroom, are central to our philosophy.
Our Philosophy
We believe children 2 ½ -5 can be taught almost anything. We choose to create an environment that allows them to teach themselves as much as possible by exploration and discovery, building confidence and competence. We don't wish upon them a veneer of learning acquired to please adults, but promote self-motivated, practiced listening skills and a love of learning for its own sake.
Just as discipline and courtesy must be internalized to work well, so building blocks of learning must be embraced before more overtly academic approaches can succeed. Lots of pencil and paper tasks lie ahead of them in school. When asked to write something, we want them to have something to write about! Current brain research tells us that children have one minute of focused attention span for each year of age—for tasks not of their own choosing. We owe it to children to help them use their time well, so that they—and we—can be lifelong learners.
Our Staff
Meet the teachers who make Co-op so special.
Molly Gareis
Director and One-Day 2's teacher
I knew from a very young age that my life would be dedicated to teaching and working with children and families. After earning my Virginia teaching license from Old Dominion University with a B.S. in Elementary Education, I began my career as a classroom teacher in the Williamsburg-James City County public school system teaching children in grades 8, 6, and 3.
After my tenure with WJCC Schools, I spent the next eleven years as a stay-at-home mom with my son and two daughters. As a parent, contributing to the education of children remained a part of who I am. For eight consecutive years I was fortunate enough to be a Co-op parent. I loved working in my own children's classes and I grew by serving alongside the amazing Co-op teachers. During this time I read constantly about child development and parenting, and, eventually I went back to ODU and earned my master's in Early Childhood Education. I am thrilled to have the opportunity to teach at Co-op and be surrounded on a daily basis by such wonderful children, families, and teachers.
Children are my passion, and it is my hope that as a Co-op teacher, I will be able to give back some of the invaluable gifts that I have received over the years from Co-op.
Emma McMillan
Assistant Director and Four-Day 4's teacher
I come from a business background with various business jobs such as cost accountant. I began my preschool career by substituting at my children's preschool in Phoenix, AZ. The preschool transitioned into a parent participation preschool in 1986. I was offered a four-year-old teacher position with two parents helping in the classroom. I attended teacher training workshops and classes during my four years in Phoenix. Our family moved to Williamsburg in 1990 and I became an avid volunteer at Waller Mill Elementary where my children attended. I was hired as a Special Education aide for one year before the opportunity to apply at the Williamsburg Co-op arose. I received the 4 day 4's & 5's position in 1992 and have enjoyed four-year-olds for 25 years. I continue to attend early childhood conference workshops as well as having received training as an "observer" for Preschool Partners, an organization created in Newport News, VA, to help early childhood programs meet the needs of preschoolers.
Grace Cunningham
I earned a bachelor's degree in English (I love stories!) from Virginia Commonwealth University, and a master's degree in Education from American University in Washington, DC.  While teaching in the DC public school system, I became passionate about empowering children with strategies for coping with the challenges of life. During the summers, I worked as an instructor in outdoor education programs designed to build self-confidence and promote environmental awareness.
We became a Co-op family after relocating to Williamsburg in 1993. I was pursuing post graduate work in Education at William & Mary. My reading and lectures came to life while working in my son's Co-op classroom. I fell in love with the Co-op philosophy and the amazing teachers who shared their exuberance for learning with my own children. When I was offered a teaching position, my heart filled with gratitude. In 2004, I left the Co-op classroom for a full-time teaching position at Matthew Whaley.
I am certified in yoga and mindfulness through Little Flower Yoga which supports the School Yoga Project in NYC. I just started a yearlong training with Mindful Schools. During a recent workshop I was gifted a bag with the logo printed on it. The logo reads "…awareness, empathy, kindness, compassion in schools." Co-op embodies these qualities.